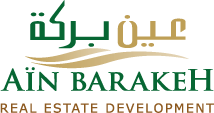 In the heart of the Bekaa Valley, Lebanon, only 40 Km from the capital Beirut, and at 914m above sea level,
AIN BARAKEH is a natural water spring that has been flowing and irrigating lands and small towns for centuries.
Such towns include Chtaura, Jdita, Mekse, and Zebdol.
Known for its clean air and natural beauty, the area around AIN BARAKEH continues to draw
in local visitors and international tourists, year round.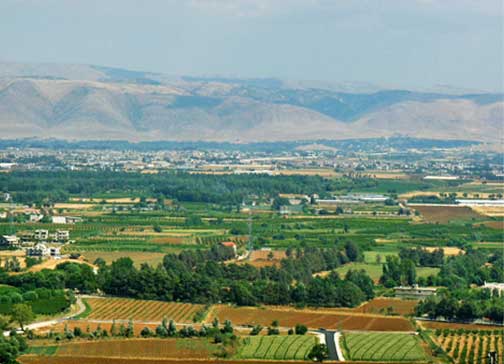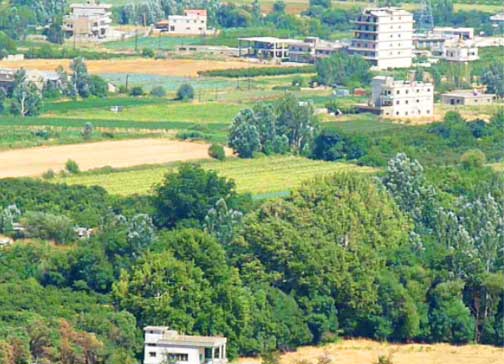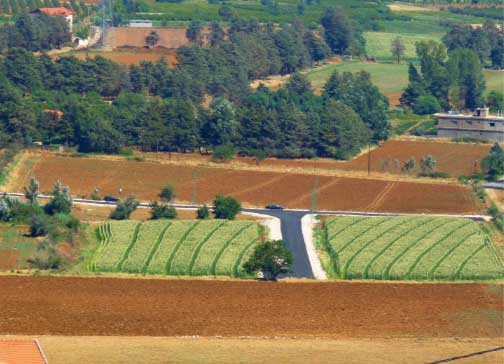 Clean, Fresh and Natural
Beauty in the Heart
of the Bekaa
Around the spring, AIN BARAKEH REAL ESTATE DEVELOPMENT has acquired several lots of land
totalling approximately 40,000 SQM, split them in lots of 1,200 SQM to 2,200 SQM each,
built roads and infrastructure, and planted over 100 trees along its roads and in its gardens.

Project Specifications
General Specs
The zoning of the Ain Barakeh lots is classified as C1, which lends itself to the development of villas and/or apartment buildings.
On a 1,200 SQM lot, a home/villa/structure can be built with the following specifications:
Two floors with a total flat surface of 360 SQM per floor, excluding balconies and common areas (30% of the lot's total flat surface is the upper limit of the lot's built up surface, with an additional % for balconies and common areas)
The two floors maximum built up area will be 720 SQM, excluding balconies (60% of the lot's total flat surface is the upper limit of lot's total built up area)
The total height of the building cannot exceed 11.5 M
More than 800 SQM for Garden & Car Parking.
Finishing Requirements for C1 Zoning:

60% of the building' roofing will need to be Red Tiling (traditional Lebanese roofing - Karmeed)
60% of the exterior walls of the building will need to be covered with Natural Stones (traditional Lebanese wall covering - Hajar Tabi'i)
Gardens & Roads
More than 12,000 SQM of the total 40,000 SQM have been dedicated to public Gardens & Roads, with a total Garden surface of more than 5,000 SQM distributed over three lots. Such Gardens will incude playgrounds for children, pergolas for an afternoon gahering, fruit trees, and lush surfaces.
Lots Layout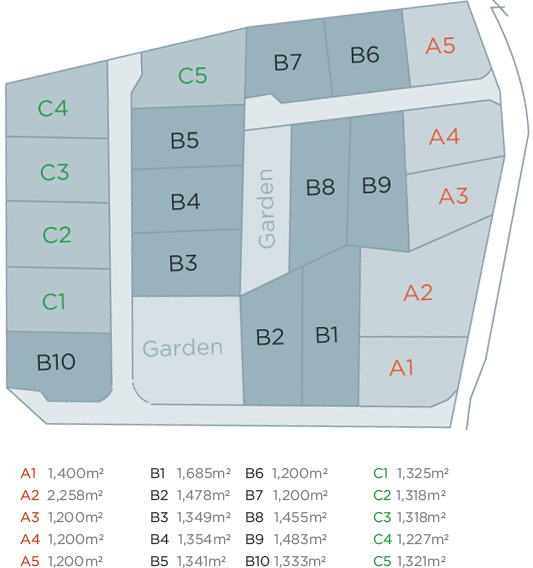 Quick Facts
Distance


3KM from KabElias
10KM from Zahlé / 10min Drive
40KM from Beorut / 45min Drive

Altitude




870m above sea level

Latitude:

33°48'0 N




Longitude:

35°49'60 E

Zoning Classification




C1 - 30/60 - Villas / Apartment Buildings